Preset Ripper is a Lightroom plugin for loading Camera RAW develop settings from other existing JPEG and XMP files. This allows easy copying of other images develop settings and applying presets stored in Adobe Camera RAW format.
Download
Download Preset Ripper 0.2.1444
Example images
Here's a random picture with no presets applied, showing inside of a snow cannon:

If you are like me, I rarely create presets of my own, instead I just copy settings from some other picture I've created. In this case, I'd like to see this as a high contrast black & white image, similar to what I've done earlier with this photo, posted in Flickr.
The problem is, that the Flickr image is an old one, and I no longer have it stored in my laptop. I'm also notoriously sloppy with backing up my catalogs, so instead of digging my old backups, I'm now getting the develop settings from inside XMP segment, which is stored by Lightroom on export (XMP segment gets included with develop settings unless you strip all metadata, or use separate tool like exiftool or Metadata Wrangler plugin to remove it)

Preset Ripper makes this process easy: As long as a have JPEG file stored on my hard drive, I can simply select photo in Lightroom, activate the Preset Ripper plugin, select the XMP source and click 'Rip'.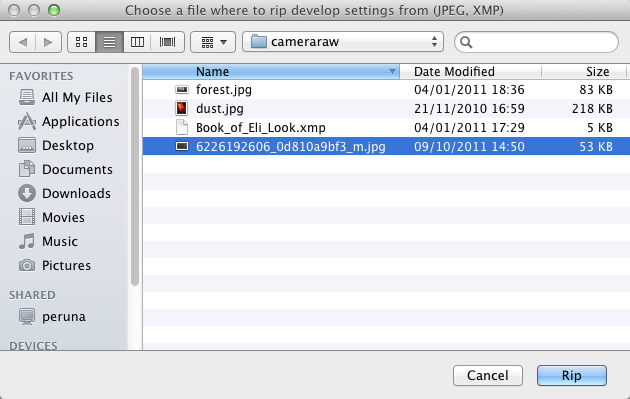 And here's the snow cannon with ripped preset:


Note that you cannot just "rip" any image look – the image has to have XMP information with Camera RAW develop settings. This sites blog engine, WordPress, strips XMP data, so you cannot rip data from these two snow cannon images. But feel free to go to my Flickr page, download the JPEG file and try extracting the develop settings.