The Fader, the preset opacity slider plugin for Adobe Lightroom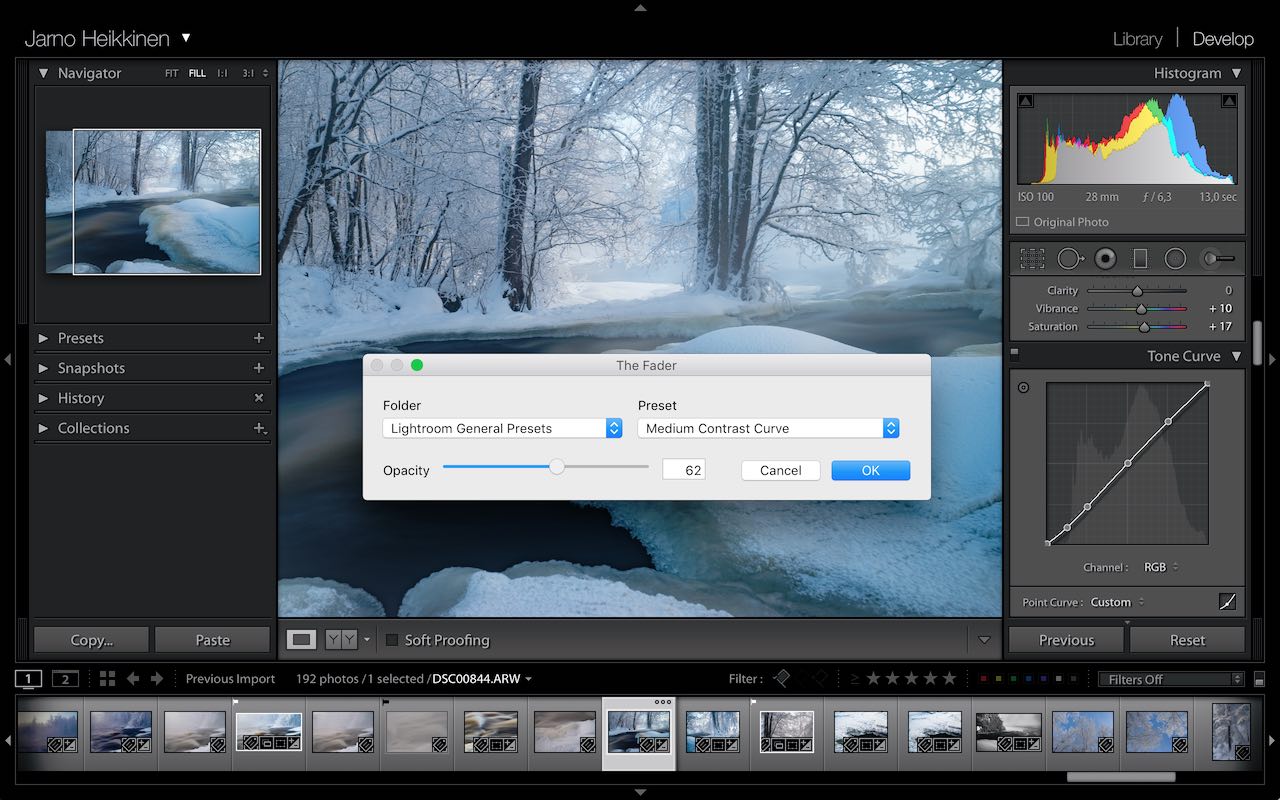 Instead of the boring static "100% only" presets, you can now dynamically choose how much of the preset you want to apply. And of course, The Fader goes up to 150%, so you can over-process your over processing!
The Fader works by dynamically applying a "faded preset", it does not modify any of your existing presets. The Fader computes new values internally and moves all the sliders for you.
Single Slider
Move single slider to adjust preset strength. Smoothly fade from current photo settings to given develop preset. Or apply 50% of that previous snapshot settings!
Advanced Interpolation
Smoothly fade complex tone curves and gradient filters from cross-processing curves to subtle adjustments.
Native Lightroom Processing
The Fader re-computes slider values for each development setting and you can further adjust your photo with Lightroom's lossless processing.
Simple and Powerful
To fade a preset, you simply select the preset folder from the left pull down menu, and then the actual preset from the right side pull down menu.  After selecting the preset, simply adjusting the opacity slider will change its strength. The photo is updated immediately to reflect the new settings. At 0%, you get your current photo settings and at 100%, you get preset's settings at full.
Recent updates
Changes in version 1.1.1522
Lightroom CC 2015.9 (or 6.9) has broken the API which was used to set tone curves.
Added workaround, but this results screen not updating correctly if GPU
rendering is used. Try clicking the slider one extra time to update screen,
or disable GPU. Related link:
Adobe Feedback forum LR6.9 bug report
Changes in version 1.1.1316
Fixes the fullscreen dialog issue with OS X window bar green button
Changes in version 1.1.1300
Fixed fading snapshots, seems that there was a small typo bug introduced
few builds ago, which caused snapshots always to fail with caching error
Moved back to lean layout, section toggles must now be specifically enabled
from plugin preferences
It is now again possible to use split screen mode, the view reset to
loupe was removed
Changes in version 1.0.1256
Fixed problem with accessing LR3 Zeroed preset in "easy" mode
Changes in version 1.0.1185
Support for Lightroom 6.2 Local Dehaze (Graduated Filters)
Section toggles are now enabled for unregistered users
Changes in version 1.0.1170
The Fader is now 5 years old! Time to make it officially version 1.0!
Workaround for LR6 bug with screen updates when tone curve was changed
"Crop Fade" is disabled. Lightroom crop tool has problems with this setting.
Registration
The Fader plugin is distributed as shareware. Without registering, the plugin has starting delay and some of the advanced controls are locked. Registration lifts all restrictions and costs $10 (payment with Paypal). Registration form can be found from Lightroom Plugin Manager, where you will also enter the registration code.