The Fader, the weighted preset plugin for Lightroom!
Instead of the boring static "100% only" presets, you can now dynamically choose how much of the preset you want to apply. And of course, The Fader goes up to 150%, so you can over-process your over processing! And if you REALLY hate cross-processing, you can have up to 50% less of it simply by moving the slider below 0%.

The Fader, Lightroom 3.0 (and later) plugin for applying develop presets with custom opacity.
The Fader works by dynamically applying a "faded preset", it does not modify any of your existing presets. The Fader computes new values internally and moves all the sliders for you.
Download
Get the plugin (version 0.7.899)
Video tutorial
The Fader quick tutorial video
Starting from version 0.5, The Fader plugin is distributed as shareware.  Without registering, the plugin fades only towards those presets which are shipped with Lightroom (of course, the current develop settings can be chosen freely).  Registration lifts this restriction and costs $10 (payment with Paypal). You can register the plugin from Lightroom Plugin Manager, clicking "Register" button will open a paypal form. Paypal transaction ID is used as an activation code, which needs to be entered to The Fader's activation code text field inside plugin manager.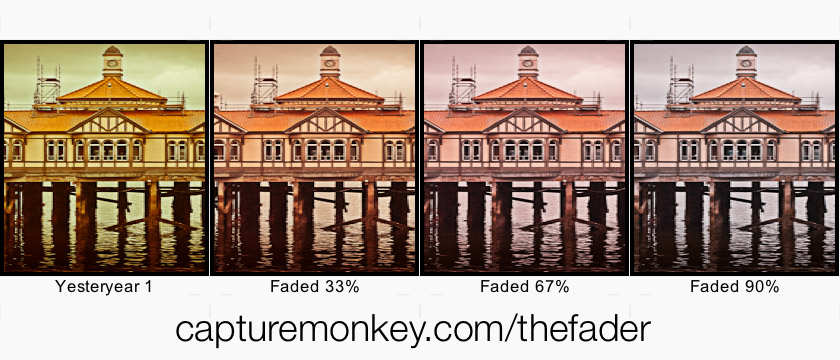 Above you can see example of results produced by The Fader.  First image is Lightroom's "Yesteryear 1″ preset, applied with Lightroom 4 beta, using Process Version 2012.  Following pictures have "General – Zeroed" preset applied on top of Yesteryear, with 33%, 67%  and 90% opacity.
The Fader has also lost some weight, version 0.5 has new slick design in its one and only dialog!  To fade a preset, you simply select the preset folder from the left pull down menu, and then the actual preset from the right side pull down menu.  After selecting the preset, simply adjusting the opacity slider will change its strength.
Pro-tip: dragging the slider can be a little taxing on the CPU, because the whole preset needs to be re-computed.  Simply clicking on the slider or typing the value is faster.