Excessor is a Lightroom plugin that allows you to apply a preset folder on a single image, generating ridiculous amount of virtual copies with applied presets. You can then further edit the virtual copies as you wish.
Above you can see an example of single image and its 7 virtual copies, which are generated from a single preset folder (Lightroom 4's B&W Presets) with a click of a button.
After installation, the plugin can be opened from File -> Plug-in Extras -> Excessor. But first, you should select the image or multiple images from which you want to create new copies. After starting the plugin, simply select preset folder where to create developed virtual copies from. Optionally, you can also set virtual copy name to preset name or preset UUID. Clicking OK will start creating virtual copies.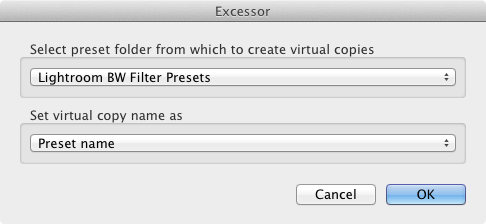 Do not touch keyboard or mouse during the virtual copy generation, it is using combination of Lightroom API and keyboard event stuffing, so things will go haywire if you try to use Lightroom while copy creation is in progress. When plugin is completed, it will tell you:

Now, click OK and you will see that Lightroom starts to render new preview thumbnails for your newly created virtual copies.